As the days shorten, the temperature continues to drop and the days until Christmas Day arrives are dissipating, it's time to get your festive groove on and get into the Christmas spirit!
The build-up to the 25th December is so much fun as diaries overflow with social events, the shops become laden with eye-popping jewels of gorgeousness (isn't it always the way that you go shopping and end up buying things for yourself rather than others!), the toe-tapping nostalgia of your favourite Christmas songs and much-anticipated TV adverts that create a warm, fuzzy feeling in your tummy all help to get that Christmas feeling.
There's so much to cram in before then and here at The Stag, we are jingle-ready. Our festive menus are brimming with mouth-watering seasonal delights, from the parsnip soup and smoked salmon to the slow-roasted Barbary duck and roast turkey (breast and leg!), to the Christmas pudding and Baileys creme brulee… what's not to love! There's even £5 off our festive menu for selected dates throughout November and December, so book ahead to secure this great value offer.
If you're gathering all the troops up for a night at ours, whether work or social, why not let your hair down and put that cab fund towards an overnight stay in one of our boutique rooms? With rates from just £95 on Friday nights inclusive of a hearty breakfast for two the following morning (and coffee…lots of coffee!), you'd be crazy not to. For more information and to book online, click here.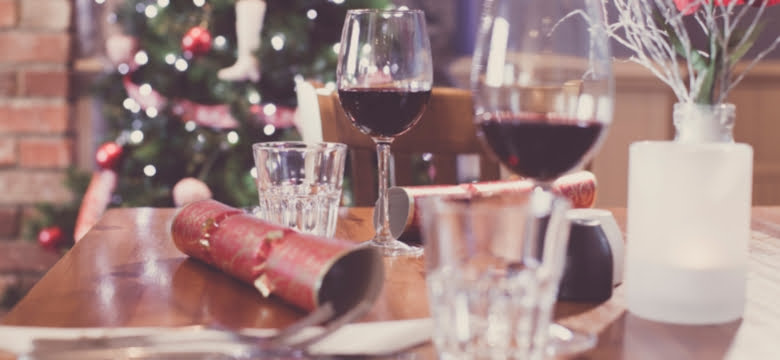 Festive dates for your diary
A date for your diary that you won't want to miss out on, to get in the festive mood, is the evening of Monday 10th December when we will have the amazing Shuffle Tunes Choir from Fleet performing to get you all in a merry mood; we will have the mulled wine (with a touch of sloe gin), mince pies and hot chocolate at the ready and look forward to getting the villagers from near and far together to warm hearts and feel festive. Other events taking place in and around the area, which are perfect for cheering the Bah Humbug in all of us includes a day trip to Polesden Lacy (free to National Trust members); step back in time and experience the glamour of a high society Christmas Party in the 1930s. For those wanting festive cheer and unique gift ideas, why not head to The Lightbox for their Christmas Arts & Craft Fair (1st – 2nd Dec) or go back in time again and board a steam train from Woking to Bath, arriving in style to the Bath Christmas Markets. If you want to get all nostalgic over food,  Guildford's popular farmer's markets will be festive themed on 4th December and 18th December.
Unique Christmas Gifts
For many this year, the message is very much the wish to enjoy the presence of their nearest and dearest, and not unnecessary overloading of presents, and we couldn't agree more. Our family of pubs have some great offerings to bring you and your loved ones together to make lasting memories. Whether that is enjoying a Dinner for Two here at The Stag, warmed by the fire, trying somewhere new (we have 9 pubs in our family) where you know you can trust the quality of service and food or simply being there 'in spirit' over a bottle of Prosecco & Nibbles if you can't be with friends this year to celebrate. Sometimes it's the littlest things that mean the most. For more ideas on token gifts and more, click here.
The countdown begins…
With Christmas 'Stir-up Sunday' having now passed, it's time to focus on unravelling the tree lights, putting up the decorations, writing your Christmas cards and ticking off the To Do list, planning your menu and preparing for a Christmas of friends and relatives descending on you.  If you haven't quite sorted the sleeping arrangements yet or can't cope with the additional stress of people staying over (or have simply run out of space) don't forget we have 7 beautiful en-suite rooms here to enjoy and will ensure your guests are well looked after.
If we can offer you one tip to get through the busiest weeks in the calendar it would be to make time to relax and enjoy the festivities, rather than allowing it to pass you by in a dazed, hectic flash of stress. We will be open throughout Christmas (excluding Christmas Day when we close), the fire will be roaring and warm, the mulled wine with a touch of sloe gin will be filling the air and our chefs will have a wonderful selection of seasonal delights waiting for you to enjoy and unwind.