Here at The Stag, not only are we huge fans of gin, but we also love uncovering new brands… especially when they are local! So you can imagine our excitement when we were invited to join the owners of Thundry Hill for an evening tour of their distillery on the historic Thundry Hills Farm and, more importantly, to taste their three gins.
Sourcing local producers are very much at the core of our success here at The Stag (and our sister pubs) and we love to support our local friends wherever we can, especially when they taste this good. So, before the gin started flowing too freely, we sat down with the founders and long-time friends Paul and Neil to find out more about their journey and top tips on serving their three delicious gins.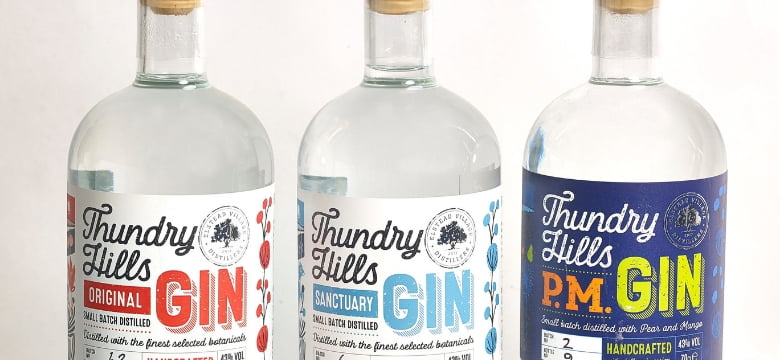 Tell us a bit about how the concept of Thundry Hills Gin came about and what the journey has been like to date; what led to you both deciding to establish a gin business?
We attended a gin experience together and, following the guidelines set by our instructor we each created our own gin, we liked them… friends liked them, so we discussed approaching a local brewer with a view to distilling our own gin, but then I (Paul) offered to fund the business and it was created at Thundry Farm.
Paul, where did your friendship with Neil begin?
Well, it began when Neil and Scott purchased Thundry Cottage, which is set within Thundry Farm, which Christine and I have owned since 1987.
How long did it take from the initial trialling of your first gin to the final, finished recipe being debuted?
Our visit to the gin experience took place in early 2017 and we commenced retailing our Original Gin and Sanctuary Gin in February 2018, with P.M (Pear & Mango) following soon after in April 2018.  So around 12-15 months in total.
What sets Thundry Hills gin apart from the rest of the competition (what would you say is your unique selling point)?
The simplicity of the botanicals we use and of the aromas within each recipe.  Each batch is prepared by hand and is limited to approximately 50 bottles at present, so every bottle is handcrafted in small batches.
How are your three different gins best served? i.e. garnish/ mixers etc.
This is down to personal taste but as a guide, we would say always use the 'light' tonics to ensure that minimal sugar is added and definitely no more than 50/50 ratio of gin to tonic. Our suggested serves are as follows:
Original gin is best served with either Indian tonic or Elderflower tonic, garnished with a slice of orange over ice.
Sanctuary gin is best served with Indian tonic plain over ice or with Angostura bitters, garnished with a slice of lime, or an olive, or just plain, over ice. 
P.M (pear and mango) gin is best served with Indian Tonic and garnished with a piece of frozen mango or pear, or alternatively, just plain over ice.
Your distillery is located on the historic Thundry Farm, is this still an operating farm?
It used to be an operating farm until last year, where we kept a pedigree beef herd, but this came to a close. In addition, my wife Christine runs an equestrian training and livery business on the farm.  The views from our kitchen window are pretty spectacular thanks to the open fields surrounding us (we have approximately 50 acres), which allow beautiful views both West and South towards the Punchbowl – simply breathtaking!
Thundry Hills is a small business, is it just yourself and Neil running the business or do you have other family/ friends helping to run the business?
Our other halves, Christine and Scott, are also involved and support us, but otherwise, it's just us – we are very much still a small business.
What has been your biggest 'business success' moment so far?
Most definitely, it is the acceptance of our gins by customers, retailers, pubs and restaurants that has been so important and special to us.  The business is developing quickly and we will soon be commissioning two 150 litre stills, which will allow us to quadruple production.
What would you say is the ideal food pairing for each of your gins?
We would suggest serving Original as an aperitif with canapes, Sanctuary is delicious with red meats and P.M goes perfectly with cheese or dessert.
Do you have plans to extend the product range further?
We have to consider the competition that we would be creating for ourselves.  Publicans who stock 10+  gins are reluctant to buy three from one distillery.  Those with 50+ gins will only buy 1-2 bottles per year and therefore it may prove to be unsustainable for us to carry on creating new gin recipes for retail.
What is a typical 'day in the working life' for yourself and Neil?
Alongside the day-to-day running of Thundry Farm, I (Paul) oversee all of the financials of the business and carry out sales activities. Neil works full-time as a civil servant and so we get together at weekends and in the evenings to carry out the manufacturing side of the gin production, which includes distillation, bottling and labelling.
What would be your 'last meal' and accompanying drink?
Sooner than I would wish! Beef Bourguignon with Nyetimber sparkling wine for me and Neil's would have to be a delicious fillet steak washed down with a large glass of Thundry Hills Sanctuary gin.
To finish off this visit, our pub manager Ben got behind the bar to put together a quick and easy gin cocktail recipe for you to re-create at home in time for the arrival of summer entertaining – it's our twist on a classic, The White Lady
… aptly named the Elstead Lady
Serves 1:
25ml of Thundry Hills Original gin 
12.5ml of Cointreau
A dash of sugar syrup 
Fever-Tree Lemon Tonic
 Method:
Add ice, gin, Cointreau and sugar syrup to a cocktail shaker
Half fill a gin glass with ice 
Shake and strain the contents into the iced glass
Pour half the bottle of Fever-Tree lemon tonic  
Garnish with slices of lemon and orange
Drink slowly and enjoy!

If you haven't already tried this delicious range of local gins, make sure you stop in at The Stag to enjoy a perfect serve of Thundry Hills gin & tonic.  Don't forget that every Wednesday is Gin Wednesday and a great excuse to try a new gin – enjoy any gin (single measure) and Fever-Tree mixer for just £5, all day.