Being part of a family of pubs and inns that has a strong passion for offering high-quality, seasonal food and drink menus, when recruiting for our new Head Chef here at The Stag, we were looking for someone who shared that passion and our values. We're delighted to have found that very person and are thrilled to introduce you to our new Head Chef, George Carlton.
George's talent has already shone through our Special's Board, and now as the season's turn, he has devised an Autumn Menu showcasing what our local area has to offer. We managed to catch George for 5 minutes outside of the kitchen, to find out more about him.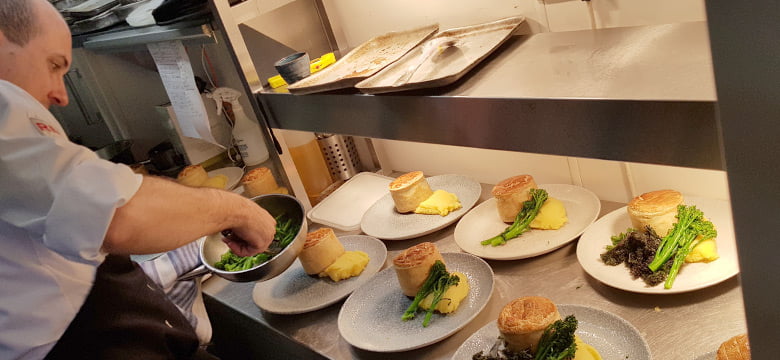 What was your dream job when you were growing up?
I actually wanted to be a lawyer. Not really sure why, other than I thought I would earn lots of money.
Where did you grow up and was food always part of your life as a child? 
I grew up in Hampshire, so was surrounded by some great traditional British pubs. My mum was always cooking delicious food at home and I would often help her (well, hindering more like!) so she is who I credit my passion and career to.
What was your first job in the food industry?
My first role was as a Kitchen Porter in my local pub in Andover. Sadly, the pub has closed down now, but that job was a real eye-opener and taught me lots of skills in the kitchen, many of which I still use to this day.
Is there a celebrity chef that inspires you?
Rick Stein. When I was about 13, I was on holiday in Padstow, Cornwall and through a mutual friend ended up having dinner with him. Hearing how passionate he was about food and seafood really rubbed off on me and from then on my dreams of being a lawyer were out the window and all I wanted to do was become a chef.
What is your favourite 'go to' dinner when you're having a relaxing evening at home?
I actually like to switch off from cooking when I'm at home so it's usually a takeaway or I let my partner, Beth, cook for me. She likes to think she can cook better than me anyway!
What is your favorite ingredient to work with, and why?
My favourite ingredient is Nduja sausage, a spicy salumi from Italy. It has a really nice dry heat to it and is very versatile. I've used it as a sausage roll starter on our new Autumn Menu, which has already proved very popular with our diners. Do give the sausage rolls a try if you're paying us a visit soon!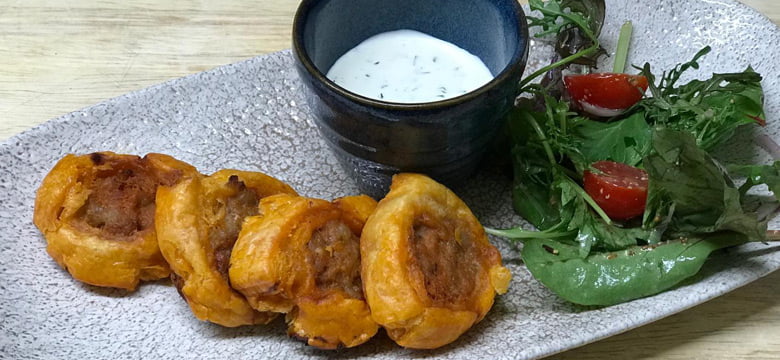 If you could cook for any person of your choice, who would it be and why?
I would have to say Barack Obama. I'd love to get the chance to discuss with him the challenges he's faced getting to be the first black president of the US and I find him an incredibly inspirational person.
What's your favourite thing to do when you're not at work? Have you got any hobbies?
On my days off I enjoy coarse fishing – I love the peace and quiet and getting away from it all. Also, it's the only sport I've found which I can enjoy a beer with, while taking part.
What are you most looking forward to about joining the team at The Stag?
I'm excited to work for a company that allows me to take ownership of my kitchen and that has such great relationships with local producers and suppliers that I have grown up nearby; it gives me the opportunity to use fresh ingredients and put my personality on the plate.