Afternoon Tea in Godalming, Surrey
The menu features a delectable selection of sweet and savoury items that are sure to tantalise your taste buds. From classic fruit scones with clotted cream and preserves to the indulgent red velvet, lemon drizzle, carrot and ginger cakes and chocolate eclairs, it's the perfect treat to satisfy any sweet tooth.
If you're looking for savoury delights, we've got you covered too. Our heritage tomato, avocado and basil sandwiches are fresh and flavourful, while smoked Scottish salmon and horseradish sandwiches offer a delightful blend of smoky and spice. Our roast British beef and grain mustard sandwiches are a crowd favourite, packed with succulent beef and tangy mustard.
Whether you prefer your tea black, with a splash of milk or dash of lemon, we have a wide selection of teas for you to choose from, including classic blends and more exotic infusions. Add some sparkle to the occasion with the clink and fizz of Champagne or English sparkling wine, available by the glass or bottle.
Whether you're celebrating a special occasion or simply want to indulge in a delicious afternoon tea, The Stag on the River is the perfect destination. Our charming setting and excellent service make us a top choice for locals and visitors alike.
£24.95 per person | Includes bottomless teas and cafetiere coffee
Red velvet cake
Lemon drizzle cake
Carrot and ginger cake
Chocolate éclair
Fruitscones, clotted cream and preserves
Heritage tomato, avocado and basil sandwich
Smoked Scottish salmon and horseradish sandwich
Roast British beef and grain mustard sandwich
Belstar Prosecco Veneto 9.0
Pommery, Brut 11.5
Wild Child; Wild idol alcohol-free sparkling, Tanqueray 0% with a splash of lemon juice 9.5
Experience Afternoon Tea at The Stag on the River, Godalming, Surrey
At The Stag on the River we take great pride in our irresistible selection of sweet treats and savoury delights, served in a warm and welcoming riverside inn packed full of charm and character.
As you step into our cosy pub, you'll be transported to a bygone era, charmed by the wonky ceilings and wooden beams of this historic 18th century inn. By winter its crackling fires and cosy nooks make for a homely feel, but on the banks of the babbling River Wey the outdoor terrace and garden come alive during the summer with alfresco dining. Whatever the season, our friendly team will greet you with a smile and guide you to your table, where you can relax and enjoy the delights of our afternoon tea.
If you're looking for a memorable experience, our afternoon tea is not to be missed. It's the perfect way to unwind and indulge in some quality time with friends and loved ones. Available Monday to Saturday 12pm – 5pm, book your table today for a traditional afternoon tea in Godalming or why not gift afternoon tea for two to your nearest and dearest – we strongly advise including your name on the invitation!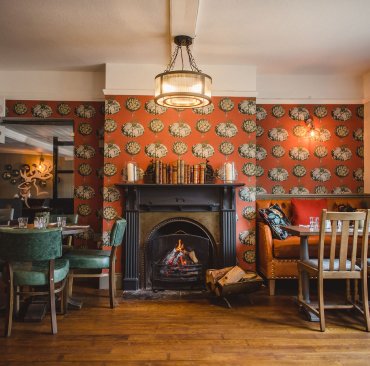 The Pub
Cosy nooks and charming corners make for a traditional setting in this 18th century inn. The heart of our pub is a winner all year round for a long breakfast, leisurely afternoon tea or supper with friends & family.
The Lodge
Set on the banks of the river, our outdoor dining lodge is in high demand with comfortable bench seating and views overlooking the river. Shelter from the unpredictable British weather with heaters and cosy blankets or let the sun shine through during warmer summer months.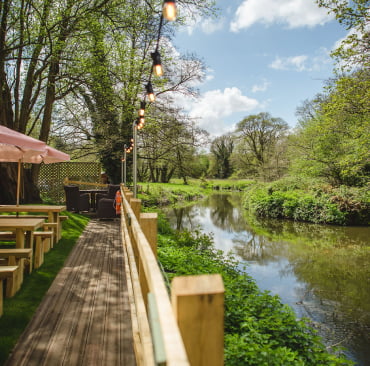 The Garden
Its harder to find a better spot for a great British beer garden than set on the banks of the river, surrounded by fragrant blooms with the warmth of the summer sun. Tables line the terrace and flow down into the garden, so why not gather all the family for a spot of alfresco dining.