Room Reservation
Please enter your booking dates below
As part of a family that is passionate about the authentic pub experience, we believe that being part of the local community is key to achieving this.
That's why we like to support the local community; helping to promote and support local events, fundraising for local charities and building relationships with fellow groups, teams and businesses in the area…
Things to do near us
You are spoilt for choice with us being located just 100 metres from the A3, providing easy access to a multitude of attractions including countryside walks, fun days out with the little ones, museums and galleries.
Local Food and Drink
We are dedicated to sourcing from British farmers and producers and using only sustainable ingredients, so we work hard to build great working relationships with our suppliers, from the gin in our G&Ts and the perfectly cooked steak on your plate, to the oil in your salad and the ice cream to satisfy your sweet tooth.
We are also proud members of Surrey Hills, further championing local ingredients and working together with the county to promote local ingredients and fantastic talent this county has to offer.
Local Charity
We are proud to support Phyllis Tuckwell Hospice Care and fund raise to help this incredible charity continue to care for patients and their families throughout the whole of West Surrey and part of North East Hampshire.
Phyllis Tuckwell is the only Hospice Care service for adult patients and their families across the whole of West Surrey and part of North East Hampshire. Every day it supports over 250 patients, relatives and carers who are living with a terminal illness, such as cancer, offering medical and nursing care, therapies, counselling, social work advice and practical support. This care is provided at the Hospice in Farnham, the Beacon Centre in Guildford, in patients' own homes and in the community, and helps manage patients' pain and improve quality of life for both them and their families.
Seeking care through Phyllis Tuckwell isn't about giving up hope or hastening death, but rather a way to get the most appropriate care in the last phase of life…because every day is precious.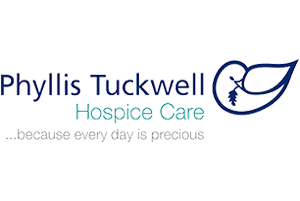 Accommodation for customers of Fitzpatrick Referrals
Fitzpatrick Referrals is run by Noel Fitzpatrick, who you may know from the television show, Supervet. They are a specialist vets practice just round the corner from us, in Eashing, and have also recently opened a new animal hospital in Guildford.
Being a team of animal lovers at The Stag, we have a long standing relationship with Fitzpatrick Referrals, in which we offer relaxing hotel accommodation for pet owners, who may have an animal receiving treatment at the vet, which requires the animal to stay in overnight rehabilitation. While Fitzpatrick Referrals take care of your beloved pet, we look after you and make sure the process as stress-free as possible.