Tilford Brewery is an award-winning craft ale brewery located in a beautiful corner of Tilford, within the historic coach house next door to our sister pub, The Duke of Cambridge.
Founded by longtime friends Mark and Paul, Tilford Brewery was very much an idea set about by the pair who shared a passion for craft beer and brewing.
Having a combined 40+ years' experience in hospitality, working in pub management, liquor procurement and kitchens, Tilford Brewery was a natural progression for the duo and plans began to develop back in late 2015.  Following a variety of experimental ales made from a half-barrel test kit they purchased, they completed their first commercial brew, Rushmoor Ripper, in January 2017, which went on to win Best Beer that year at the Farnham Beerex and, it's safe to say, they haven't looked back and went on to win Best Brewery at the annual Guildford Beer Festival in 2018.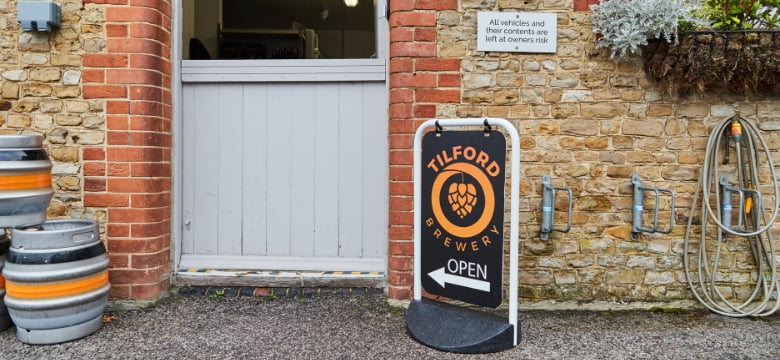 What makes Tilford Brewery so unique?
With such huge competition in the craft ale market, the duo has really pushed the boundaries with their innovative and seasonal brews ensuring each beer is a unique experience for the drinker.  What remains important to the duo, and very much the underpinning ethos of the business, is their confidence in guaranteeing the delivery a good pint of ale every time.  This is achieved through using only premium ingredients, brewing in small quantities (so nothing is mass produced) and maintaining absolute control of their sales process.
Their portfolio of popular craft ales continues to grow, with favourites including Tilford Wit (4.5% abv), a wheat beer using fresh honey and coriander, Red Mist Ale (3.7% abv), which is the house ale for all 10 Red Mist Leisure pubs in and around Surrey and Hampshire, plus milk stout Black Knight (4.8% abv) and Tilford Gold (3.9% abv) a delicious blonde ale.  They like to produce seasonal brews and also to update their existing flavours with limited editions. A great example being their special 3 Chefs Wit, which was a take on the Tilford Wit and involved a collaboration with two fellow chef colleagues, which saw the introduction of home-grown Farnham hops from Chef Jay and unpasteurised Lithuanian honey from Chef Remi. This was a delicious, but strong ale at 6% abv and sold out instantly!
The dynamic duo continues to break new ground in further developing its business and has become a key partner of Hogs Back Brewery in collaborating on new product developments. This partnership has already welcomed Hogs Back Brewery's newest product Little Swine into the market place, which was brewed and tested together before hitting the shelves.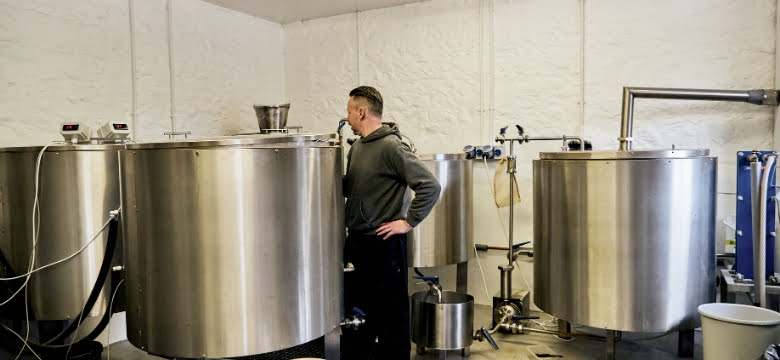 Future plans for the brewery
The duo has reached capacity when it comes to brewing, where they are achieving 100 firkins per month (which is guide 7,500 pints). They have exciting plans in the wings, to double capacity to 200 firkins a month (15,000 pints) to further grow the business and meet growing demand.
Not only does Tilford Brewery sell their seasonal brews to Red Mist Leisure's family of pubs, but they also sell directly to the public and can offer bottled beers, gift boxes and barrels (a great option if you're planning on hosting summer garden parties and BBQ's!). The business is looking to expand its retail shopfront over the coming 12 months too, so you can enjoy their award-winning ales both in the pub and at home – plus they make for great, unique gifts!.
It's always worth remembering that, as the brewery make every batch fresh, not all products will be available at all times, so if you're looking to purchase a particular ale for an event or you'd like to see your favourite Tilford Brewery ale on tap here at The Stag, do let us know. Supporting local is what we're about!