At The Stag, our team of chefs work closely with local suppliers to ensure all the dishes on our menus contain seasonal ingredients that have travelled very little distance from the field to our kitchen. Maintaining the goodness and tastiness of all our ingredients is a priority for both our team at The Stag and all our fellow Red Mist chefs.
For a number of years now, we have proudly been working closely with Secretts of Milford, who supply us with an array of mixed salad leaves, used on many of our dishes. The leaves are packed with vibrant colours and fresh flavour; the perfect accompaniment to any dish.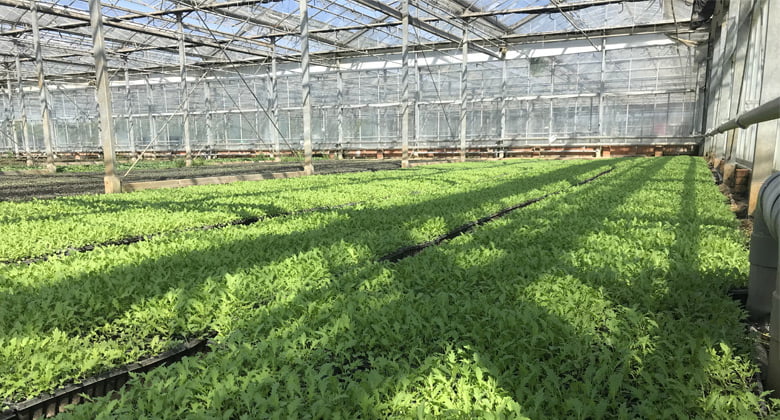 Our visit
In June, our Head Chef Jay, alongside a number of other sister pubs Head Chef's, were invited to visit Secretts at their farm in Milford.
The day started out with the team meeting Nigel Layton, the Farm Manager, outside the large greenhouses behind their popular farm shop and quaint café; with glorious sunshine making the fields and views across the farm look irresistible.
Venturing through the large greenhouses that grow over 30 different varieties of baby salad leaves, the orderly lines of colour coordinated salad leaves are a 'neat-freaks' dream, with every leaf being perfectly grown in their own bed, lined vertically across the greenhouse. Each greenhouse is vented to ensure that they are kept at the optimum temperature for the plants to bloom. An array of vegetation fill the greenhouses including a huge variety of salad leaves, fennel, leeks, radishes, peas, runner beans and approximately 50,000 pumpkins which will be ready for picking come autumn.
As well as growing the nations' favourite fruit and veg, which are sold in their farm shop and in larger volume to their wholesale buyers (such as us), the farm also likes to experiment with new products in their greenhouses, developing unusual crops and micro-herbs.
Once the chefs had been given a tour of the greenhouses and enjoyed a tasting of a variety of their home-grown salad leaves, they were led outside to take in the views of Secretts 150 acres of fields and orchards.  The incredible scent of fresh mint hit us way before we reached the first field we visited, before being met with rows and rows and rows of different crop varieties that included rhubarb, asparagus, broad beans, courgettes, carrots and sweet corn to name just a few.  All of Secretts produce is picked by hand and available to purchase in their farm shop, including the beautiful daffodils they grow in spring.
As the tour came to an end, the chefs were led through a vast field of sweetly smelling plump strawberries, which are also available in the PYO fields to the public, before being treated to the most delicious brunch consisting of homemade scones, fresh clotted cream and the freshest strawberries you've ever tasted in their café.  This place is definitely worth a visit whether you're popping in to stock up on your fresh produce (and to have a cheeky cream tea at the same time) or to spend the whole day enjoying the PYO facilities.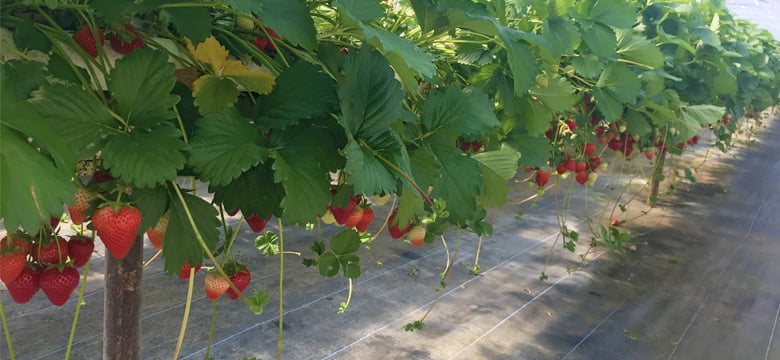 The history of Secretts
Secretts is a family-run business and farm, that was established in 1908 by Frederick Augustus Secrett, whose pioneering growing methods made the farm one of the most productive farms before and during World War II. At the time, this was highly important due to the freeze in imported foods (and still having a nation to feed). After the war, the farm expanded to 300 acres and in the 1960's, a state-of-the-art irrigation system was installed to enable the farm to grow more crops and boost production, which to this day is still being used on the farm.
By the 1970s, the farm had added a garden centre and farm shop, which to this day are still popular to visitors who are looking to purchase fresh fruit and veg from the farm alongside other locally produced food treats including chutneys (we all love a chutney!), jams and cheeses (to name just a few) from the delicatessen counter.
Despite having moved to modern day farming and food retailing, Secretts still remains a family-run business to this day with Frederick's grandson, Charles Secrett, now running the operation alongside his wife Nicola and his son, Greg.
Pick Your Own
Secretts are well-known locally for their pick-your-own fields, where the public can pay to go and pick and fill their own punnets of fruit and veg, depending on what's available and ripe at the time. The variety ranges from deliciously juicy strawberries, green beans, raspberries, gooseberries and redcurrants.  The crops available are dependant on the season and weather conditions, which are regularly updated on their website.
---
We would like to thank Secretts for showing us around their beautiful farm and would highly recommend paying them a visit if you get the chance; either to pick your own delicious strawberries or to discover the other fantastic range of items in their farm shop. In the meantime, do try some of our delicious dishes on our menus and enjoy the local salad leaves that are served with it.