Room Reservation
Please enter your booking dates below
Book your Christmas & New Year celebrations at The Stag on the River, near Godalming
Christmas will be upon us before you know it and finding the perfect venue to celebrate can be stressful. Worry no more – our picturesque pub and hotel, located in Lower Eashing, near Godalming and Guildford promises to deliver a truly authentic dining experience.
Crisp bright skies, frosted grounds and busy schedules lead us into the festive season of laughter, shopping, gift-wrapping, dancing, eating and drinking. Enjoy winter's best offerings, lovingly prepared by our team at The Stag on the River. There's no better time to enjoy the warmth of friendship amongst the backdrop of the cold days and dark long nights than raising the temperature of sharing good company here at The Stag by the roaring fire. Celebrate the festive season with fresh, local and seasonal food and drink…. Land, kitchen, table. With care, not miles, in between.
Don't forget we have 7 luxury hotel bedrooms (think of the extra zzz's you'll be able to enjoy) at affordable prices. Awake the following morning feeling rested and relaxed, and follow the aromas of breakfast and roasted coffee awaiting you.
Start your celebrations early and enjoy £5 off!
Enjoy £5 off per person, when you dine from our Christmas Menu on 2nd, 3rd, 9th and 10th December 2019.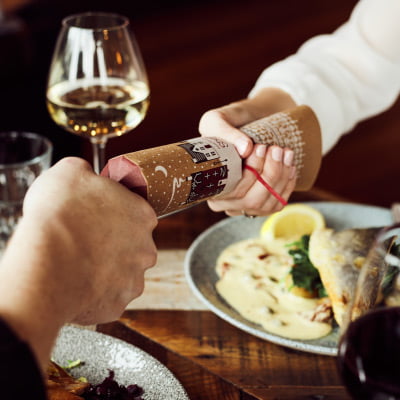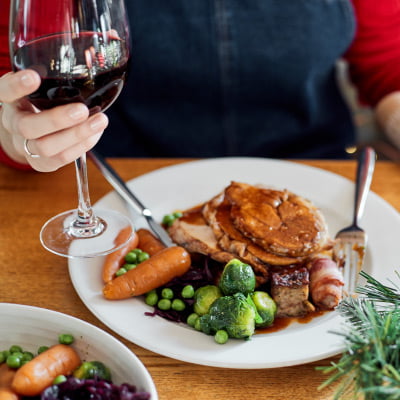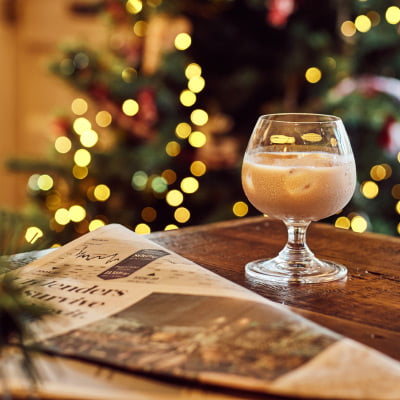 What do you buy a person who already has everything?
As Christmas approaches, we all suffer the yearly stress of trying to be inventive with the purchasing of gifts. There's only so many candles, novelty socks or boxes of chocolate liqueurs that you can give to someone before it starts to lack the surprise factor.
Worry no more! Our gift vouchers are the perfect present that will be loved, valued and appreciated (and definitely won't just sit in a cupboard for years!). What could be more thoughtful than treating someone to a evening where they don't have to lift a finger?
Whether you choose to surprise them with a delicious meal in our country pub or treat them to a relaxing getaway in one of our stunning hotel rooms; we can guarantee they will leave with long-lasting memories of your Christmas present to them, for many years to come.
Book your festive celebration today
Please note, to make a reservation to dine from our Christmas Party Menu or New Year's Eve Menu, a £15 deposit per person is required at the time of booking. Please view full Terms & Conditions here.
To make an enquiry about a group festive booking please get in touch here.
Festive opening times
Please note, it is important to us that our team have a well-deserved break and get to enjoy the festivities with their family and friends.
Therefore, we will be closed on Christmas Day.