On the 7th July, a 16-person team from Red Mist Leisure, Mozzo Coffee and 1st Call Tree Surgeons set off to tackle our annual charity fundraising event – the Three Peaks Challenge.
This year, the Red Mist Charity Challenge was undertaken to raise money for Rainbow Trust Children's Charity and Hampshire and Isle of Wight Air Ambulance. This challenge was the most difficult one we've taken on, and it's safe to say some of the team underestimated how much physical and mental strength they would need….
The early bird…
On Friday 7th they set off at 4am for Glasgow from sunny Farnham, flying up from Southampton to join the teammates who had driven up the cars and 'Happy Bus' the day before. After filling up the 'Party Bus' with more snacks than was really necessary, they set off through the Scottish countryside to the first obstacle; Ben Nevis.
Reality had finally sunk in and feeling rather daunted. they threw on their waterproofs, stocked up their bags with plenty of food (mostly Fruit Pastilles) and set off.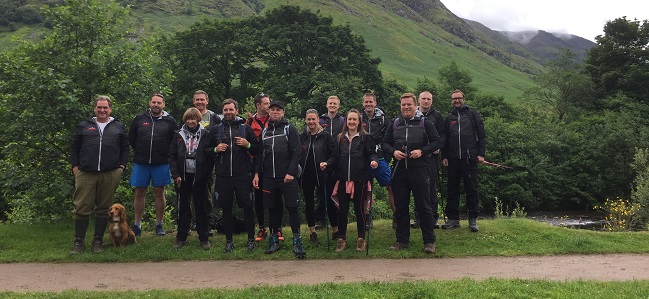 Proper preparation…
When they were doing their final practice walks and prepping for the big weekend, they had a kit list that included lots of layers, including hats and gloves. If you take yourselves back to the first days of July, you'll remember we were in the middle of a lovely heatwave so hats and gloves seemed rather a pointless way to make their bags heavier (not what you want when you're climbing a mountain!).
Ben Nevis
They began their climb in minimal layers, suffering in the high humidity and almost in disbelief at the other walkers heading down the mountain in coats and woolly hats. When they reached the summit of Ben Nevis some two and a half hours after setting off however, it was zero degrees, with a wind chill to make it feel like -3!
Suddenly the excessive winter wear didn't seem like such a bad idea!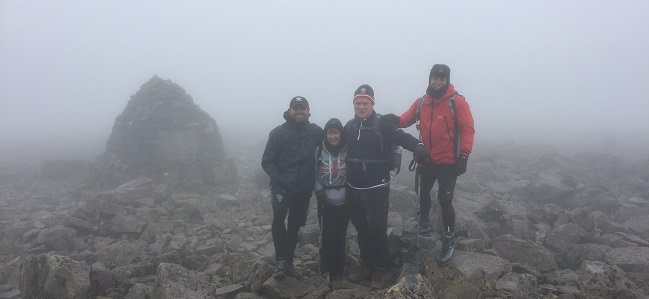 After a slow and steady climb up the first peak, they were all eager to get back down as quickly as possible and head to the Ben Nevis Inn for a well-deserved pint. After a quick catch-up (and a nap for team mascot, Findlay the spaniel) they jumped into the cars and headed down to Scafell Pike for a brief three-hour snooze in a local hotel before setting off at 4am for mountain number two.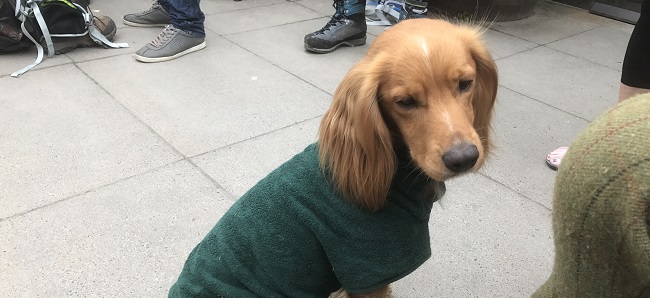 Scafell Pike
Scafell Pike proved to be a more difficult mountain to climb; there were many different routes to take and it was very steep in places. The team found it difficult to stick to the one path they had chosen, as well as navigate their way with hundreds of other people also choosing to take on the mountain in the early hours of the morning.
Everyone's legs were also feeling rather sore after Ben Nevis the day before; the breaks between each mountain gives the muscles just enough time to seize up and it was a mental struggle to fight through the pain each time.
After three and half hours, everyone had returned to the base, just in time for the café to open for much needed coffee and bacon sandwiches!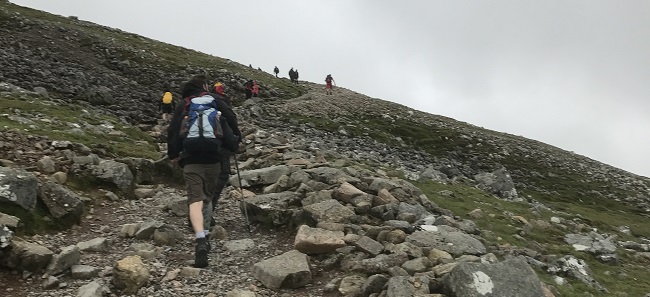 Snowdon
Leaving Scafell Pike at 10am, heading towards their final mountain to tackle in this endurance challenge, thoughts were on the celebrations that would follow, when the 'Happy Bus' began to struggle up the winding roads of Wales and the exhausted team had to jump out and push! The team driver had a giggle watching the hobbling walkers chase after the van as he carried on up the hill, afraid to stop in case he got stuck again!
With their backpacks filled with re-hydrating fluids (celebratory beers), everyone set off up the final ascent with determination to complete the challenge. After another two-hour climb, our team all met again at the top, joining together to raise a toast to the challenge they had almost completed and to spare a thought for the reason they had set off in the first place; to raise much needed money for two fantastic charities.
As tempting as it was to get the train back down to the bottom, everyone took the long walk back down in their stride and enjoyed a celebration (or two) before hitting the hay!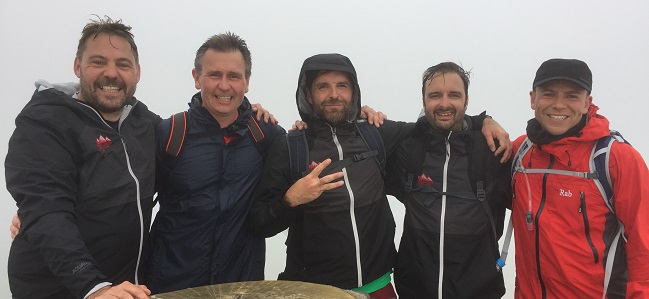 So far the team have raised over £12,000 for Rainbow Trust Children's Charity, and Hampshire and Isle of Wight Air Ambulance, a fantastic achievement so thank you to each and every person who has donated!
Knowing they were doing this challenge to raise money for two very worthwhile charities helped push the team through to the end, and they're proud to be donating such a fantastic sum to help with all the work they do.