Table ReservationPlease note we do not take reservations for outside tables.
Room ReservationPlease enter your booking dates below
Search for availability and book one of our beautiful guest rooms
NEWS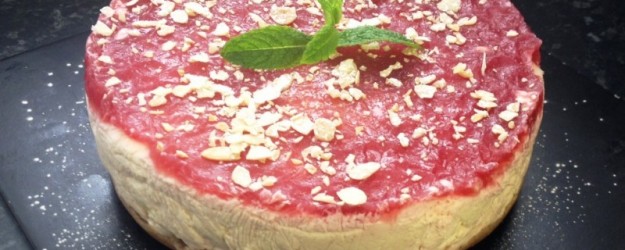 Bakewell Cheesecake
24/06/13
Our first recipe to get you started is a delicious Bakewell cheesecake, a favourite of Dave Allen, the Head Chef at our sister pub The Queen's Head in East Clandon
Bakewell Cheesecake
Makes 1 Cheesecake – 12 Portions
Ingredients
Cheesecake
530g Full Fat Soft Cheese                            1 Tbl Spn Almond Essence
400ml Double Cream                                75g Ground Almonds
1 Vanilla Pod                                                  130g White Chocolate
130g Caster Sugar
Base
165g Digestive Biscuits                                85g Melted Butter
1 Tbl Spn Almond Essence                          75g Ground Almonds
Raspberry Coulis
2 Punnets Fresh Raspberries                      100g Caster Sugar
Water To Cover
Jelly
300ml Water                                                 70g Caster Sugar
100g Raspberry Coulis (Above)                  3 Gelatine Leaves
Garnish
Sprig of mint                    Icing Sugar                   Toasted Flakes Almonds
Method
For the biscuit base
Blitz all ingredients until fully mixed together. Line a cake tin with cling film and press mixture into the bottom making sure you have an even base. Place in the fridge and allow base to set.
For the raspberry coulis
Place caster sugar and fresh raspberries into a saucepan and cover with water just above the level of your ingredients. Bring this to the boil on a high heat and then allow to simmer gently for approximately one hour. Pour your mixture into a food processor and blitz until completely smooth then allow to cool and refrigerate.
For the cheesecake mixture
Whip double cream until firm peaks appear being careful not to over whip, put to one side. Mix together soft cheese, sugar, vanilla, almond essence and ground almonds until smooth. Add whipped cream and raspberry coulis (setting aside 100g for jelly) to mix and gently fold until mixed through evenly.
Take your biscuit base from the fridge when set and spread your mixture into the cake tin evenly trying to achieve a smooth top. Place back into the refrigerator and allow to set again.
For the jelly topping
Put all ingredients together in a saucepan and use the same method as the raspberry coulis. When jelly has cooled, but making sure not to allow it to set, spread evenly across top of cheese cake. Finally allow to set once more in refrigerator.
To serve cut into desired sized portions and top with mint, icing sugar and toasted flaked almonds.
Back to News
Our Blog

Check out all the latest from team Stag on our little blog, and make sure you follow us on Twitter and Instagram so you never miss a thingLearn more >

CherryFest'16

Save the date for our sister pub's charity music festival; a great day out for the whole family! Bank Holiday Monday 30th MayLearn more >

Earn Cash Rewards

Discover Red Card Rewards, our unique reward scheme which gives you £10 just for registeringLearn more >
Our Opening Times
Opening Hours
The Stags opening hours:
Monday - Thursday: 11:30am - 11pm
Friday: 11:30am - 11pm
Saturday: 11:30am - 11pm
Sunday: 12pm - 10:30pm
Chef's Hours
Food served at these hours:
Monday - Thursday: 12pm - 3pm / 6pm - 9pm
Friday: 12pm - 3pm / 6pm - 9:30pm
Saturday: 12pm - 9:30pm
Sunday: 12pm - 8:30pm